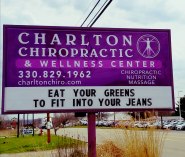 Welcome
Welcome to our website! We are so happy that you are visiting us. Our purpose is to help people get well and stay well using chiropractic, nutrition, and education about healthier lifestyle choices. If you need more information about the office than this website can provide, please contact us by phone or email and we will answer your question as soon as possible.
If you would like to request an appointment or order supplements from any company we carry, send us an email at [email protected]. For an appointment, be sure to specify what type of appointment and which practitioner with preferred day. For supplements, specify size and whether you will pick up or would like them mailed.
To order Standard Process or MediHerb supplements directly, go to https://charltonchiro.standardprocess.com/
Click on "Charlton Chiropractic & Wellness Center" for directions, hours, and general contact information.